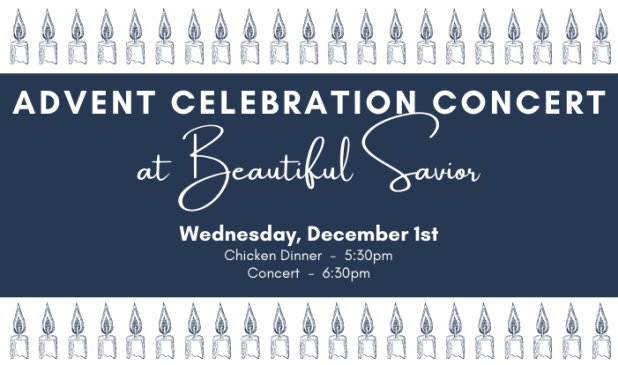 Advent is a season of yearning - looking forward to Christmas, time with family and friends, and, most of all, celebrating the most momentous event in human history - God becoming man. As we enter this busy, hectic season, let's take an hour (or so) to sing and praise and focus on our God.
A large choir, string quartet, youth bell choir, and many soloists will usher us into this season of yearning - He is coming soon!
The service is at 6:30, with the best chicken dinner served at 5:30. RSPV is highly encouraged, so that we have enough food for everyone! Sign up below!
Please sing with us!
Thank you for your interest in joining us for this special service of music! It is very helpful to know how many singers we will have, so if you plan on joining us, please let us know:
---
There will be four rehearsals for the concert at Beautiful Savior (3205 N. 85th Street in Milwaukee):
Sunday, November 7th at 2:00pm
Sunday, November 14th at 2:00pm
Sunday, November 21st at 2:00pm
Sunday, November 28th at 2:00pm
---
Music Recordings
Take a few minutes to listen to the songs we will be performing, or sing along to practice at home or in the car!
An Advent invitation
The Yearning
almost there