A different kind of "Youth Group"
for a different kind of World.
UPCOMING MEETINGS
YG will return October 1st, 2023!


Do you feel like you are different too?
Like, everyone else is "normal" and no one really understands you?
That's OK
(because we all feel that way)
There's a reason we feel that and we're gonna figure it out!
We'll talk about things like:
Why are we here?
Why is this world SO broken?
What can I do when the brokenness tries to crush me?

Ya'll...the Bible has the answers (really!)
and they are written on YOUR heart. Crazy, but true.
Come and See. You'll be glad you did.
What is YG?
Who is invited? You! A loose guideline is youth between the ages of 12 and 18, but we will not be super strict on either end. If this sounds like it is for you, please come.
What will we do? This isn't First Friday. Basically it's not "for kids." What we are doing here is for the adults you're becoming, not the children you've been. We'll have fun! We'll play games and eat food and joke and laugh. But we will also talk. Share our lives. We might even cry sometimes. We will be there for each other and support each other. Newsflash! Life is hard. There's no way around that. The good news is, you don't have to do it alone. You need safe places, even outside of your home, where you can be you. And most of all, where you can know your Creator, Redeemer, and the Lover of your soul: Jesus. Do you know He loves you? He also loves to know you. Let's get with Him. Come and be you with us, and with Him. It's safe here.
When will we meet? Every other week on Sunday evenings, from 6pm - 8pm (unless otherwise specified).
Where will we meet? At Beautiful Savior Lutheran Church on 85th and Auer Avenue in Milwaukee.
What is this called? It's Youth Group, but flipped upside down. It's so much more. It's different from anything you've ever done before. Below you'll find our logo. Hopefully it makes sense now.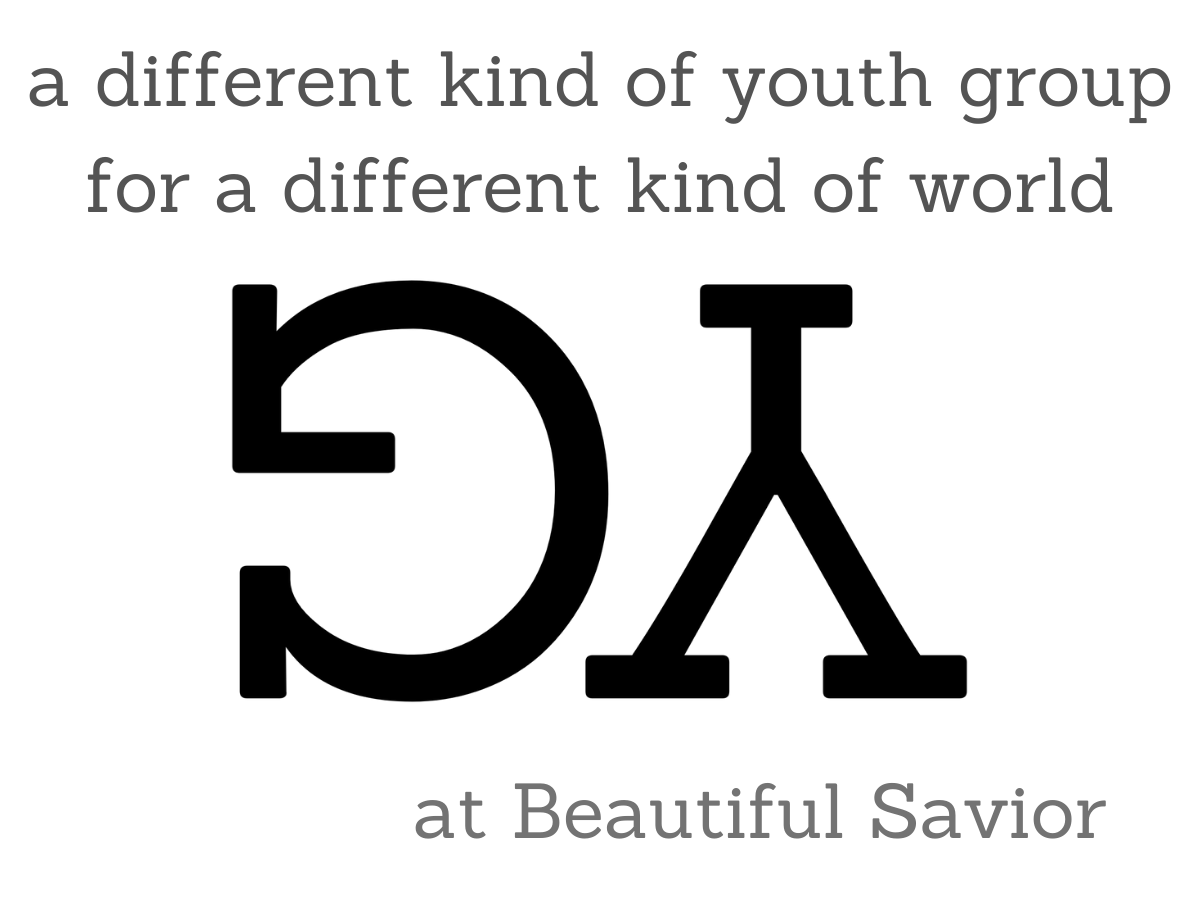 How do I sign up? Stop over at our Contact Us and send a quick message saying you're interested in YG. Please include your name! Or talk to one of us. We're around. Or, if you prefer, you are welcome to just show up.
We are SO excited for what God is going to do in our community through our new YG.
Be there. Bring a friend. God's doing something. Be part of it.
Your passionate YG team:
Becky, Dan, Dustin, Ella, Emma, Jacob, Josh, Lem, Mike, Myra, Rachel, and Ruth