Thank you for Volunteering for VBS!
The dates for vbs 2022 are:
july 25-29
This year we are headed to the outback of Australia with the theme: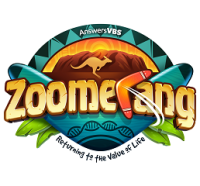 (click on the image above to explore Zoomeraing from AnswersVBS)
You can learn more about VBS at Beautiful Savior by clicking here
It takes a BIG team to make VBS happen
We appreciate you so much, and we hope this incredible week is as enjoyable and rewarding for you as it is for the kids!
---
How can I helP?
There's so much to do! Whether you want to hop in and teach a group of kids, or you'd rather stay behind the scenes, there's ways to help that are perfect for your skills and personality. Fill out the form below to sign up for what suits you best:
If you have any questions, you can always email
---
vbs resources & downloads
AnswersVBS is no longer providing Resource CDs in the leaders guides.
You can access all the information that used to be in the CDs by clicking on this link.
You will need to login to access the information. Enter the following credentials:
Answers in Genesis Account: then click the "Next" button.
After it's done "thinking," enter the password: VBSatBSLC
On the next page, click the "Submit" button. You're in!