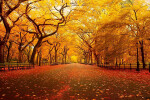 When we hear the term "outside," the first thing we often think of is the outdoors. Here in Wisconsin, there's nothing quite so refreshing as that first scent-laden blast of spring when it's finally safe to throw open the windows and take a few deep, soul-cleansing breaths.
The early summer wafts of freshly cut grass also give us a boost. Not to be topped, the red and golden leaves of fall are broadcast against the bold blue October sky, once again giving us that much-needed "ahh factor" as we enjoy visual delights of God's glorious paintbrush in nature. Even the nose-tingling rush of icy air on a winter's crisp, silent night invigorates us.
That's how it is with our faith. While it's very easy to be complacent and not go outside our comfort zone, every once in awhile, we catch the rush of sharing our faith with others. Being fed in faith weekly at church is, indeed, important. However, the year thus far with all of the great sharing has awakened the faith of many, whether members of Beautiful Savior or not. From the neighborhood Easter egg hunt and the "free-like-God's-grace" hot dog giveaways; from the Patriotic Parade to VBS and, of course, our barefooted, lawn-sprinkling First Fridays with God's kids, it's all good.
We at Beautiful Savior have been blessed with faith-breathing opportunities to let our faith shine all around the neighborhood. It's when we share our faith and pray with – and for – others that our own faith gets even stronger. So thanks for volunteering and praying; and keep it coming!